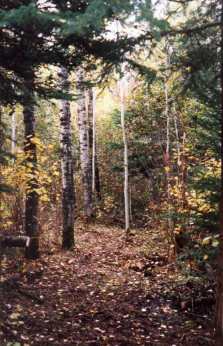 The forest as it was. A rich, bio-diverse ecology greatly damaged by a destructive corridor.
As previous visitors to this site will know, SaskPower, a Government owned electrical corporation, had determined to push a very destructive powerline corridor through the forest which includes the area known as Friendly Forest. The corporate engineers had determined to do this despite a largely non-forest option a few miles away. (See documentation prepared by the Forest Fringe Citizens' Coalition analyzing the SaskPower submission to the environment Department.)This non-forested option would also have kept the large 138 kV powerline more than 500m from nearly all homes. Despite extensive evidence that the route selected by SaskPower would do the most damage to a very sensitive transition Boreal Forest ecoregion, AND most adversely affect the most people of all the options available to SaskPower, SaskPower has perversely pursued its plans. All efforts to get a decision that would minimize the impact of this project have fallen on deaf ears and failed utterly.
The NDP Government of Saskatchewan led by Lorne Calvert had been asked repeatedly to intervene on behalf of people and the environment. All efforts to have this government listen to people on this issue and to require SaskPower to select a much less damaging option available to it have failed. This failure of an elected government to protect people and environment in the face of insensitive and vindictive corporate engineers and officials should send dread through the souls of all caring citizens of this Province of Saskatchewan. The sense of ABSOLUTE BETRAYAL that this has created in the many people who have fought this fight, is profound! When Government fails so utterly in its responsibility, can it claim any moral right to govern at all?
The local municipal councillors have supported our efforts. We commend the efforts of Bill Wilson, Ralph Hudson, Doug Erickson, Orest Swystun and Dick Tataryn. While the Reeve did not seem to be supportive of our position, the rest of the Council did hear us and seemed to share our concerns. We were making a presentation to this Council on the fateful September 11, 2001.